Customer Gallery
---


Hooked by Jane Akins/Connecticut


---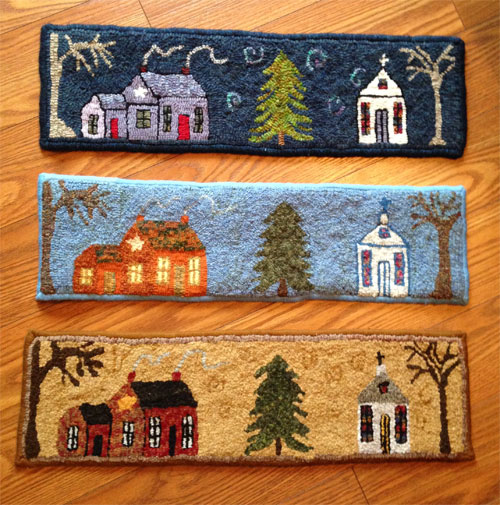 Hometown hooked by Marlene Wright and a few people in her rug hooking group located in Kentucky. They're all so different and look fantastic


---


Hooked by Mike LaRaus for his grandson"
---
Hooked by Beverly Matthews from Ohio with current color variations
in the kit. Beverly has also purchased some of my felted animals
that decorate the table below the rug.

---
On The Farm and Beyond, hooked by Kim Kelly.
Kim purchased the kit but made color changes to her liking,
adding wool from the kit, wool of her own and yarn - looks wonderful!

---
Hooked by Debbie Decker - her own creation with wools
purchased from me - I love it!

---
Blue Saltbox hooked by Susanne Robinson

---
Designed and hooked by John Rexrode, based on a 1967 black-and-white snapshot of a childhood friend who died of breast cancer

---
New home for Lily Longbody and friends at Beverly's house in Ohio

---
Hooked by Michael La Raus
---
Hooked by Michael La Raus
---
Hooked by Beverly Matthews with sheep felted by Karen
---
Peter Rabbit hooked by Beverly Matthews
along with hand felted rabbit
---
Home Sweet Home by Jennifer Bubie
A note from Jennifer: "Hello, I just wanted to say Thank You. I really enjoyed my rug hooking. You gave me the confidence to do the project. I loved the package. The box, to the simple direction, and the labeled bags. I'm hoping to do another rug this winter. Thank you again Karen."
---
Another hooking challenge for the sisters of Lucy Walsh.
A creative 'challenge' each year for them - they pick a title -
this one is "I'm Just Saying" and then hook all year
and then reveal at one time - what fun!
A note for Karen from Lucy: "You saw COME! SIT! STAY! while under construction. Fred's is on the corner of Amsterdam & 83rd, NYC. It's named after the owners dog and that's him on the left side. My son and daughter-in-law are entering the neighborhood restaurant that is dog friendly and has hundreds of pictures on the walls of patron's dogs. That wonderful mottled grey I got from you is the windows, sky and border. I think some of the brick color is from you too. Probably other pieces as well."
---
Curiosity Killed the Cat - An original rug designed
and hooked by Lucy Walsh. Search for clues that tell the story
of this unlucky cat...and the one that got away. Use your imagination!
---
An adaptation of an old rug from the 30s or 40s hooked by Jane Akins
---

Pear Runner hooked by Beverly Crans
---
Large Flower Basket hooked by Jill Hicks displayed
at Sauder Village 2012 - a wonderful variation of colors
and a wonderful label on the back
---
Small Bean Pot hooked by Tina Palombo - her first rug!
---
Striper Rug hooked by Lynn Douglas - her own design (they love fishing!)

---
Stair Riser #3 hooked by Linda Ellis who is hooked the same pattern
but different colors for each riser - looks great!

---
Love Birds hooked by Jane Pappe

---
Harmony hooked by Barb Reeder
for her granddaughters first birthday - what a lucky little girl!
---
Wintertime at Night hooked by Cindy Kadel,
a gift for friends living in Valtellina in the Italian Alps
---
Pirate 20"x25" design and hooked by Lucy Walsh
---
Wintertime At Night hooked by Bonnie from Nebraska -
Wonderful change in design Bonnie - I love it!
---
This commissioned rug started out as a simple pencil drawing on an 8 1/2" x 11" sheet of white paper that was drawn for her grandmother when Corinne was seven years old. Think of the possibilities when you are thinking about your next hooking project. A simple drawing, a photograph or just the scene looking out your front porch can become beautiful rugs - heirlooms forever.
---
Sam hooked by Nancy Schenk
---
Willow's House hooked and donated to an
American Cancer Society's Relay for Life team's fundraiser
by Judy Stevens - go Judy!!!
---

Tree of Life - Hooked by Joan Worthington
---
Hooked by Jane Akins
---
Pineapple with Birds - Hooked by Debbie Smith
---
Rebecca's Garden
- Hooked by Debbie Smith
---
Welcome - Hooked by Debbie Smith
---
Large Flower Basket
- Hooked by Debbie Smith
---
Tree of Life with Sheep
- Hooked by Joan Worthington
---
Hooked and designed by Lynn Douglass